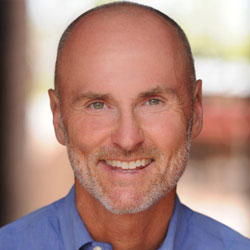 Chip Conley
Hotel Guru, Author, Head of Global Strategy
Airbnb
Previous Speaker Page:
Chip Conley was a featured speaker at SLIF16. Watch his talk here.
The founder and former CEO of Joie de Vivre Hospitality, Chip Conley at age 26 took an inner city motel and turned it into the 2nd largest boutique hotel brand in the world. The author of four books, including PEAK and The New York Times bestseller, EMOTIONAL EQUATIONS, he shares his theories on transformation and meaning with audiences around the world.
Chip joined Airbnb as Head of Global Hospitality & Strategy in 2013, where he's been instrumental in turning it into the world's largest hospitality company – teaching his award-winning methods to hundreds of thousands of hosts in nearly 200 countries. Chip founded Fest300 in 2013 to share his passion for travel and the world's best festivals. He received his BA and MBA from Stanford University, and holds an honorary doctorate in psychology from Saybrook University. He serves on the boards of the Esalen Institute and the Burning Man Project.