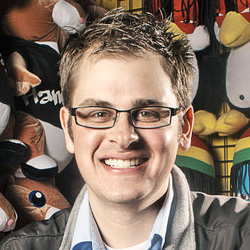 Cole Lindbergh
Toy Salesman, Carnival Barker
Cole Lindbergh, is a one-of-a-kind, jack-of-all-trades. With over two decades of experience as a leader, motivator and operations manager in the amusement park and toy industry.
Cole became nationally recognized in the summer of 2011 after he was featured on nationally-syndicated radio program "This American Life" hosted by Ira Glass. The episode titled "Amusement Park" showcased Cole's style of leadership and management, while focusing on the major principles Cole felt were important in creating a fun and exciting atmosphere for his employees working at a seasonal summer job.
Cole has traveled the country helping businesses create fun and exciting work environments for employees in hourly positions, while speaking on the importance of active leadership and new ideas that generate positive change and outcomes for employees in all work environments.