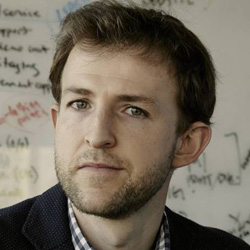 Hasier Larrea is an award-winning engineer, designer, and entrepreneur who is introducing robotic interiors to modern living.
Larrea founded Ori, Inc. in 2015, and has led a team in designing and building a collection of robotic interiors that enable the elegant and effortless transformation of any room, on demand. Ori's first three products include the Ori Studio Suite, which can transform a studio apartment into a bedroom, office, full-size living room, or walk-in-closet; the Ori Pocket Closet, the first piece of furniture that can create the experience of a walk-in closet in any room; and the Ori Cloud Bed, which can be lowered and raised into an integrated dropped ceiling, revealing a modern sofa or workspace.
Before Ori, Hasier led the Architectural Robotics research area at the MIT Media Lab, which focuses on creating a new generation of hyper-efficient and responsive urban spaces by combining the disciplines of Architecture and Engineering.
Larrea holds Bachelor's and Master's degrees in Mechanical Engineering from the University of Navarra, Spain and a Master's in Media Arts and Sciences from MIT.