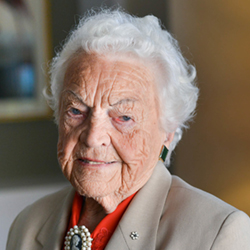 Hazel (Hurricane) McCallion
Chief Elder Officer
Revera
Previous Speaker Page:
Hazel McCallion was a featured speaker at SLIF19. 
Ms. Hazel McCallion joined Revera as Chief Elder Officer in 2015. In this role, she provides advice and counsel to the Revera leadership team in support of fulfilling the company's vision to celebrate the ageless spirit of people through service and innovation.
A highly successful politician and businesswoman, Ms. McCallion was previously one of the longest-serving municipal mayors in history.  Prior to joining Revera, from 1978 to 2014, she served 12 consecutive terms as the Mayor of Mississauga, overseeing the growth and development of Canada's sixth-largest city for 36 years.
At 98 years of age, Ms. McCallion truly lives life to the fullest and has achieved success in a variety of life pursuits. She was a former professional women's hockey player and has penned a book with Robert Brehl called "Hurricane Hazel: A Life with Purpose". In 2015, she was appointed special advisor to the University of Toronto's Mississauga campus. Hazel was also installed as Inaugural Chancellor of Sheridan College. She serves on the boards of several corporations and is the federal appointee to the board of the Greater Toronto Airports Authority.