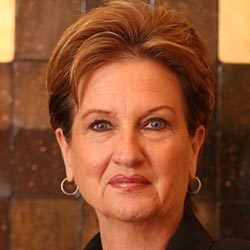 Jackie Harris
President & CEO
INTEGRACE
Previous Speaker Page:
Jaclyn Harris was a featured speaker at SLIF17.
Jaclyn Harris is the President and CEO of Integrace, a faith-based family of retirement communities and resources in Maryland. Ms. Harris has been a leader in serving seniors for over 30 years. She joined Integrace after serving as President and CEO for Trinity Senior Living Communities for 15 years. Trinity operated 35 senior housing communities in four states. Ms. Harris has served as Chair of the Board for the Michigan Association of Homes and Services for the Aging, Treasurer and Member of the Board Executive Committee for the American Senior Housing Association and serves as a Member of the Not-for-Profit Cabinet for Leading Age. She continues to be an active member on many Leading Age committees. Ms. Harris has been a national speaker on resident centered model of care and organizational culture shaping.