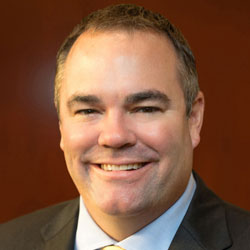 Justin Hutchens
President
HCP
Previous Speaker Page:
Justin Hutchens was a featured speaker at SLIF17.
Justin Hutchens has been President of HCP since January 2017. He has been with the company since September 2015, most recently as Executive Vice President and Chief Investment Officer. Prior to joining HCP, Mr. Hutchens was President and Chief Executive Officer of National Health Investors, Inc. (NYSE: NHI), a healthcare REIT, since March 2011 and President and Chief Operating Officer ("COO") from February 2009 to March 2011. He served on NHI's Board of Directors from 2010 to 2015. Mr. Hutchens has national operating experience as the Senior Vice President and COO of Summerville Senior Living from 2003 to 2007 and upon its merger with Emeritus Corporation, the Executive Vice President and COO of Emeritus Senior Living Corporation (NYSE: ESC) from 2007 to 2009. From 1997 to 2003, he held multi-site management roles overseeing marketing and operations in the senior housing and post-acute industries. Mr. Hutchens currently serves on the Board of Directors for the National Investment Center for Seniors Housing and Care.