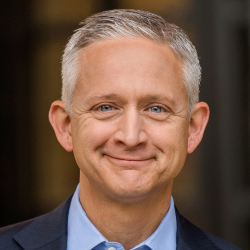 Kris Engskov
President
Aegis Living
Kris Engskov joined Aegis Living in January 2019, coming from Starbucks where for the past 16 years he successfully led a number of the company's global businesses—most recently as executive vice president of business integration, responsible for leading the company's new and emerging growth initiatives and partnerships.  In his years at Starbucks, Kris led and gained experience in all parts of the organization—from brand strategy and marketing, to real estate development, to technology implementation, to customer experiences and operational excellence. His roles included president of the company's flagship U.S. Retail business leading 170,000 employees across 8,300 stores, and president of the Europe, Middle East, and Africa (EMEA) division where he built the Starbucks brand across 30+ countries.
This experience driving business development and enterprise growth in a company offering quality offerings and great customer experiences position Kris to lead Aegis Living as it continues to innovate and grow in providing standard-setting senior living.  His background helping to recruit and develop people in a nurturing and caring workplace will also sustain Aegis Living's hallmark 'employee first' culture that is at the heart of how we help our residents live their best lives each day with dignity and respect.  Kris now joins the Leadership Steering Committee, responsible for setting company growth strategy, program development, and new market site selection.
Kris' additional prior experience includes an analyst role evaluating and advising technology investments with Madrona Venture Group LLC, a Seattle-based venture capital fund.  He also served in the White House from 1993-2000, first as assistant press secretary and later as personal aide to President Bill Clinton.
He graduated from the University of Arkansas at Fayetteville with a Bachelor of Arts in Public Administration.