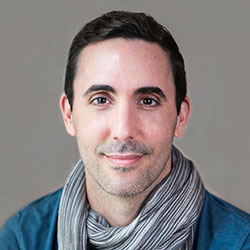 Lionel Sussman
Vice President, Experience Design
MARRIOTT INTERNATIONAL
Previous Speaker Page:
Lionel Sussman was a featured speaker at SLIF19. 
Lionel Sussman currently leads the development of Interior Design & Architecture Strategies in the Global Design team for the Marriott, Sheraton and Delta Brands at Marriott International.
Before joining Marriott, Lionel spent many years at Starbucks leading the design team through the journey of creating a new and revolutionizing retail design strategy that allowed designers to create locally relevant stores in every part of the world. He was also responsible for leading the store development teams through the execution of the stores globally.
In his previous role at SHULMAN ASSOCIATES, Lionel created an interior design department from the ground up and delivered world-class design for several Hospitality projects.
Lionel grew up in Buenos Aires, Argentina. Influenced by his parents, who constantly traveled, he developed a global perspective at an early age. While working as an intern in a boutique architectural firm, he studied Architecture at the University of Buenos Aires and then moved to the US, where he continued shaping his career.
His work has been showcased in many publications including INTERIOR DESIGN, ARCHITECTURAL RECORD, VMSD and others. He has won numerous design awards as well.