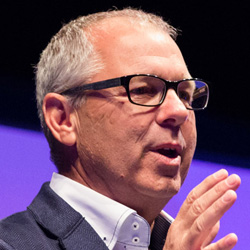 As Chief Executive Officer of Taco Bell Corp., Mark King is responsible for driving overall brand strategy and performance of the business in the U.S. and internationally. Drawing on his retail experience and track record of driving innovation, brand relevance, and culture, King accelerates the innovation, sales growth, and unique brand identity that makes Taco Bell a Category of One.
Before joining Taco Bell, King served as president of adidas North America from 2014-2018. Under his leadership, adidas market share doubled in under three years and sales tripled in four years. In addition, King cultivated new energy for the company's culture resulting in the double number of employees at adidas, an industry-shattering retention rate, the highest employee net promoter score in the company, and more than 500,000 job applications in one year.
Prior to adidas, King spent 34 years at TaylorMade, quickly rising from a territory sales representative to President of TaylorMade in 1999 and CEO in 2002. During King's tenure as president and CEO, TaylorMade became the leading and most profitable golf company in the world, catapulting the business from $300 million to more than $1.85 billion in sales.
Learned from his nearly 40-year career, King believes in creating the right atmosphere to unleash the potential of people to make extraordinary breakthroughs happen. As a leader, he steers with a belief system based in keeping a growth mindset, investing in people, and encouraging an innovative culture to achieve success.
In 2017, Footwear News honored King with the number one spot on their Power 100 list and in 2016 they named him "Person of the Year." Also, in 2017 and 2016, King was named "Executive of the Year" by the Portland Business Journal. He served as the chairman of the National Golf Foundation and was consistently named as one of the ten most powerful people in golf during his years at TaylorMade-adidas Golf.
King currently serves on the Board of Directors for the V Foundation Victory Over Cancer. Together with his daughters, he has also raised more than $10 million for children charities around the world through their OneKind Foundation.
King graduated from University of Wisconsin – Green Bay with a bachelor's degree in Business Administration.