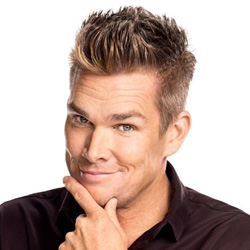 Mark McGrath
Singer/Songwriter
Sugar Ray
Mark McGrath rose to fame as the frontman for the '90s rock band, Sugar Ray. During the height of the group, McGrath graced the covers of national magazines such as Spin and Rolling Stone. To this day, Sugar Ray still has over 2 million monthly listeners on Spotify, and they have over 100 million hits on their single, "Every Morning."
After Sugar Ray signed to Atlantic Records, the group released seven studio albums, including the 3x platinum album, 14:59 and 2x platinum album, Floored, which flaunted the #1 charting single, "Fly." With over 10 million album sales and myriad sold-out shows, Sugar Ray became a sought-after group on TV, guest-starring on programs like Live! With Regis and Kelly, countless late night television programs, The Ellen DeGeneres Show, The Today Show, and many more. They even cameoed in the live-action Scooby-Doo movie.
Outside of the band, McGrath is a popular television personality and has regularly hosted programs like Don't Forget the Lyrics!, Killer Karaoke, and Extra. Additionally, he's hosted specials like The Victoria's Secret Fashion Show, MTV's annual World Music Awards, among others. Besides hosting, McGrath has appeared on celebrity reality programs like Celebrity Big Brother, Celebrity Wife Swap, The Celebrity Apprentice, and Rock & Roll Jeopardy!—which he won three times.
Not only has McGrath explored acting with guest roles in The Neighbors, Law & Order: SVU, and The Office, as well as the starring role in the Sharkando series, but he recently joined a '90s nostalgia circuit, performing with throwback groups like Everclear, Marcy Playground, and Smashing Pumpkins.