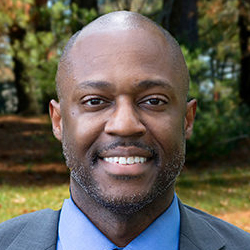 Marvell Adams
CEO
W Lawson | Create Community. Do Good.
Marvell Adams Jr. is an aging services executive who began his career at Monroe Community Hospital, a large nursing home in Rochester, NY, where he trained and completed the requirements to become a licensed nursing home administrator. He remained in Rochester after his training as Administrator/COO for The Highlands at Pittsford, a senior living community affiliated with the University of Rochester Medical Center. During his time in Rochester, Marvell took on numerous other roles inside and outside of the URMC system including LEAN performance improvement facilitator, dementia skills coach and CARF-CCAC surveyor.
When the opportunity arose to serve Collington – A Kendal Affiliate, Marvell, a native South Carolinian, was happy to move back toward warmer climates. During his tenure as CEO, he led the successful restructuring of Collington's debt, development of a comprehensive strategic plan and oversaw the stabilization of independent living occupancy. Marvell was given the distinguished honor of becoming a member of the LeadingAge Board of Directors, a preeminent national association of not-for-profit aging services providers, and is now in his second term.
Marvell served the residents, staff and board members of the Kendal System as Chief Operating Officer. Only the second individual in Kendal's history to serve in the role.
Marvell received his undergraduate degree in Political Science at the College of Charleston in South Carolina and soon thereafter earned his Master of Healthcare Administration from the School of Public Health at the University of North Carolina at Chapel Hill.
In contributing to the next generation of aging services professionals, Marvell has given dozens of lectures to hundreds of high school, undergraduate, graduate and doctorate level students and served as preceptor and mentor to 20+ students and early careerists. In helping ensure that the next generation is as diverse and inclusive as possible, Marvell currently serves as founding co-chair of the LeadingAge Cultural Competency Advisory Group. Additionally, he is a founding member of the design team for the LeadingAge Summer Enrichment Program, which focuses on exposing BIPOC undergraduate and graduate students to the field of aging services.
Marvell currently resides in Baltimore, Maryland, with his wife, Dr. Karoline Moon, 5-year-old girl/boy twins and 3-year-old daughter.