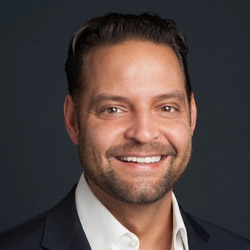 Peter Scialla
President & Chief Operating Officer
Delos
Peter Scialla is President of Delos.
Delos is a wellness real estate and technology company guided by the mission to be the world's leading catalyst for improving the health and well-being of people around the world by improving the indoor environments where they live, work, sleep and play. Informed by more than eight years of research and rigorous analysis of environmental health impacts on people, Delos and its subsidiaries offer an array of evidence-based technology and solutions for residential, commercial and hospitality spaces.
Delos is the founder of the WELL Building Standard™, the premier standard for buildings, interior spaces and communities seeking to implement, validate and measure features that support and advance human health and wellness. Its subsidiary, the International WELL Building Institute, administers and continues WELL's development and drives market adoption.
Prior to co-founding Delos, Peter enjoyed a distinguished career on Wall Street, which spanned 18 years. Before leaving to focus full-time on Delos, he served as Partner for Goldman Sachs in charge of U.S. Equity Derivatives Trading.