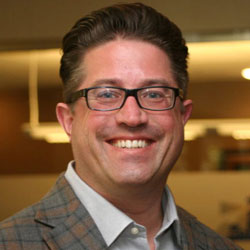 Ryan Novaczyk
President & CFO
New Perspective Senior Living
Previous Speaker Page:
Ryan Novaczyk was a featured speaker at SLIF18. 
Ryan is responsible for directing the company's day-to-day operations and fiscal functions, overseeing business performance, investments, strategy and growth initiatives. In an effort to help residents in Living Life on Purpose®, Ryan guides the development and implementation of operational and financial strategies and systems, including planning and forecasting processes, financial analysis, sales & marketing, resident programming, facilities management, acquisitions and new developments projects.
Prior to joining New Perspective Senior Living, Ryan served as Vice President of Equity Research for two multi-billion dollar financial services firms located in New York and Minnesota. Previously, Ryan was engaged in equity research, investment banking, and mergers and acquisitions at Piper Jaffray in Minnesota.
Ryan graduated from the University of St. Thomas in Minnesota with a bachelor of arts in finance, and a minor in economics. He holds professional certificates from the Erickson School at the University of Maryland, Baltimore County (UMBC) in the following disciplines of the Seniors Housing and Care executive education program: Seniors Housing Executive, Finance, Sales and Marketing. Ryan is active with industry associations and is a member of the Assisted Living Federation of America, CFO Executive Roundtable, and sits on the Operator Advisory Board for the National Investment Center for Seniors Housing.