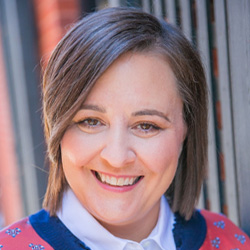 Stephanie Harris
CEO
Arrow Senior Living
Stephanie Harris, CEO and Principal, established Arrow Senior Living Management and Turnaround Solutions with an initial investment using student loans while a student at St. Louis University School of Law.
Over the past 17 years, Stephanie has become a senior-housing industry thought leader. Her sales and management methods have been proven to effectively transform and stabilize low-performing or newly developed communities in a matter of months.
Arrow Senior Living has quadrupled its footprint since its inception and was recognized in 2022 as the 43rd largest senior housing operator by Senior Housing Executive magazine. The company currently manages more than one billion in real estate, has more than 1,800 employees, and operates 31 senior communities across seven states, with an additional $125 million under construction.
Stephanie recently was honored as one of 19 women across the country for the inaugural class of the "Women of Distinction Hall of Honor" by McKnight's Long-Term Care News, as a "Top 40 Under 40" by the St. Louis Business Journal and 2023 St. Louis Titan 100 CEO.
Prior to a career in senior housing, Stephanie spent several years with numerous congressional and statewide campaigns and worked on Capitol Hill as a policy advisor.
Thought Leadership
Stephanie is recognized as a thought leader in the senior housing industry for developing sales and management methods that transform low-performing, low-occupancy communities into 100 percent occupied in a matter of months. She is the author of "Turning Leads into Move-Ins," a digital training guide for senior housing sales, as well as an active member of several industry-related organizations, a frequent speaker at conferences, and a mentor to senior living professionals.
Stephanie has not only remained ahead of the game in focusing on serving the middle-market senior living industry sector, but she is also dedicated to providing creative thinking and innovation combined with inspirational core values to ensure the highest level of resident satisfaction in independent living, assisted living, and memory care communities.
She has built a strong sales culture across the entire Arrow Senior Living organization based on encouragement and open recognition of individual achievements.
Under Stephanie's leadership, Arrow Senior Living has also become an industry pioneer – using new and innovative technology to enhance quality assurance and provide a safer, more secure and healthier environment for older adults living in its communities. The technology is used for and includes:
Detecting and sending an automatic alert when a resident falls in his or her apartment. As a result, the resident doesn't have to try to move to call for help, which can cause more extensive injuries

Predictive analytics for vital signs ranging from respiratory issues to chest pain

Detecting subtle changes in a resident's mobility so proactive intervention, such as providing therapy, can be offered to help avert a crisis

Digital tableside dining program that helps residents adhere to dietary guidelines prescribed by their personal physician

In addition to proactively prolonging residents' good health, the technology makes it possible for staff to respond faster when a resident needs help. As a result, residents enjoy a better quality of life and Arrow Senior Living communities are able to operate more cost-effectively and deliver more value to residents and their families.
From her commitment to delivering maximum value for the under-developed middle-market segment to her focus on incorporating cutting-edge tools, such as predictive analytics technologies, Stephanie Harris is an innovator and leader.  She understands the industry can't just keep raising rents.
Her vision for the future of the senior living industry encompasses everything from addressing the shortage of quality healthcare workers to shifting strategies to focus on helping prospective residents who might choose to remain in their homes to understand and appreciate the value of moving into a senior living community before experiencing a critical decline in their health and abilities. The future depends on how the industry as a whole is operating and what it's doing to increase length of stay.