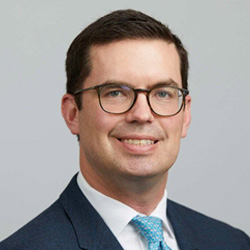 Trever Sweeney
VP, Asset Management
Ventas
Trever Sweeney is Vice President of Senior Housing Asset Management for Ventas, Inc., a leading real estate investment trust and S&P 500 company. Operating at the intersection of healthcare and real estate, Ventas owns a diversified portfolio of approximately 1,400 properties serving a large and growing aging demographic in North America and the United Kingdom and is the premier capital partner to leading senior housing and healthcare providers and research institutions.
Sweeney is a member of the Ventas senior leadership team and is responsible for partner relationships in the Company's Senior Housing Operating Portfolio. He also provides integral support for the Company's investment, capital deployment, disposition and active ownership strategy in senior housing.
Since joining Ventas in 2012, Sweeney has been involved in many key asset management transactions with the Company's operating partners, including development and redevelopment projects, lease restructurings and strategic dispositions. He has led the execution of a portfolio evolution through more than 175 operator transitions, significant expansion to new operating relationships and negotiations of aligned management agreements.
Sweeney is a member of the Urban Land Institute's Senior Housing Council, was named a Rising Leader by the American Senior Housing Association (ASHA) and is Vice Chair of the Future Leaders Council of the National Investment Center for Seniors Housing and Care (NIC).
Prior to Ventas, Sweeney served six years in the United States Marine Corps. He received a Bachelor of Arts degree in Economics and Mathematics from Moravian College and a Masters Degree in Finance from Brandeis University.